Subscribe now for a sneak peek inside the Doodly Genius Track.

The Doodly Genius Track by Jenn Jager is created for intermediate to experienced whiteboard animators who want to take their creations to the next level.  This course is a must-have master class for Doodlers who want to work outside of Doodly's standard features, save time while creating projects and produce professional videos that go way, way beyond traditional whiteboard animation. Techniques require third-party basic image editing software, like Adobe Photoshop Elements (similar to what's required when using Doodly). Play the video below to learn more.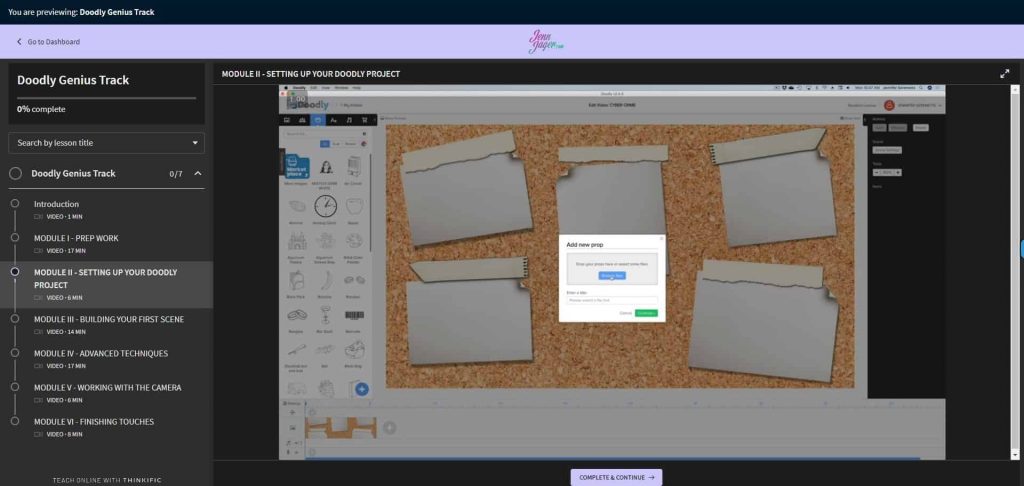 Each Module is Designed for You
You'll see how to set up your Doodly project so you don't waste time later. Preparation is the key and I show you how to set up your timeline layer by layer so each step can build on the previous or stand alone. We'll work through all the details step by step together.
Detailed Instruction
I zoom in very close to the screen so you can clearly see the adjustments as I make them. This level of clarity will help you easily follow along so you don't miss a thing. 
If you can follow a recipe when you cook, you can follow the Doodly Genius Track.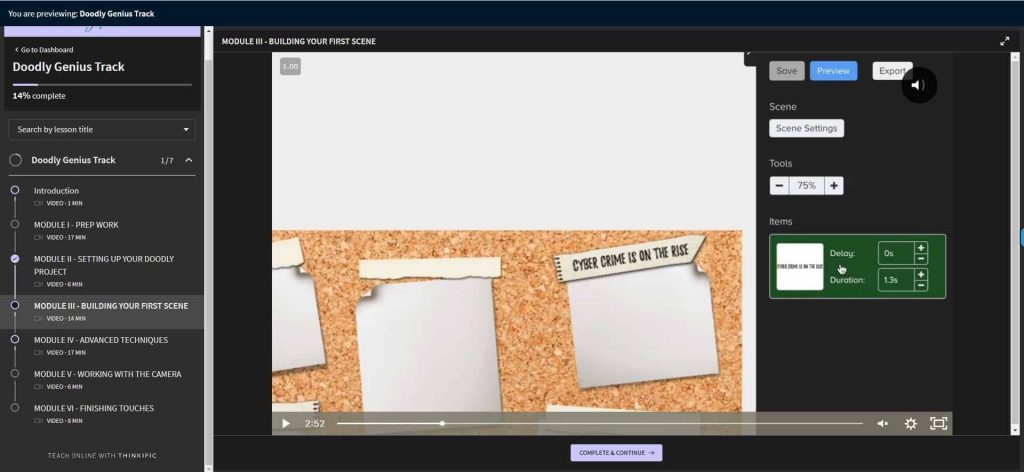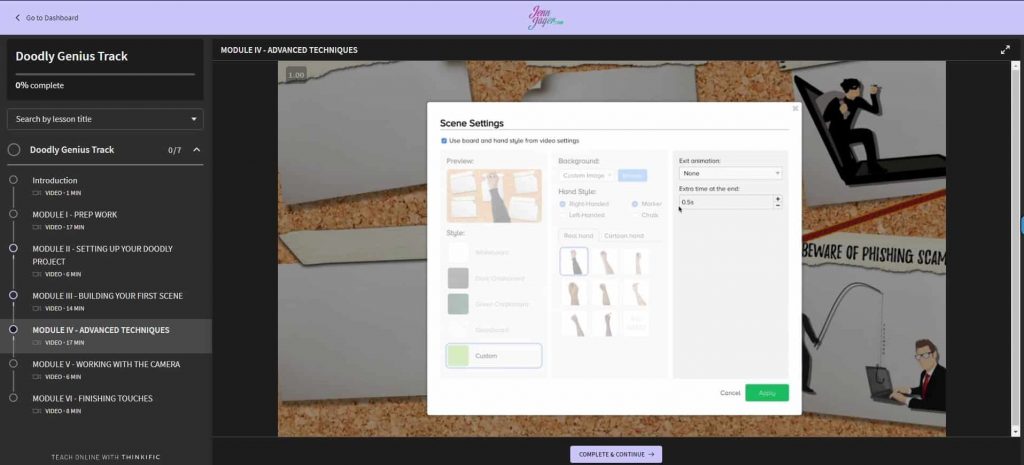 Advanced Techniques
We'll get into the heavier stuff too. These steps will make the difference between basic animations any beginner can do and graduating to an intermediate or pro animator.
Changing scene timing, matching voice over with what is happening on screen, and cool workarounds for fading in or out layers.  
Camera Movements
This is where your animation actually comes to life. I'll show you how to make the camera start at one point, move to another point, and pan and zoom into your animation...all while your animation is happening.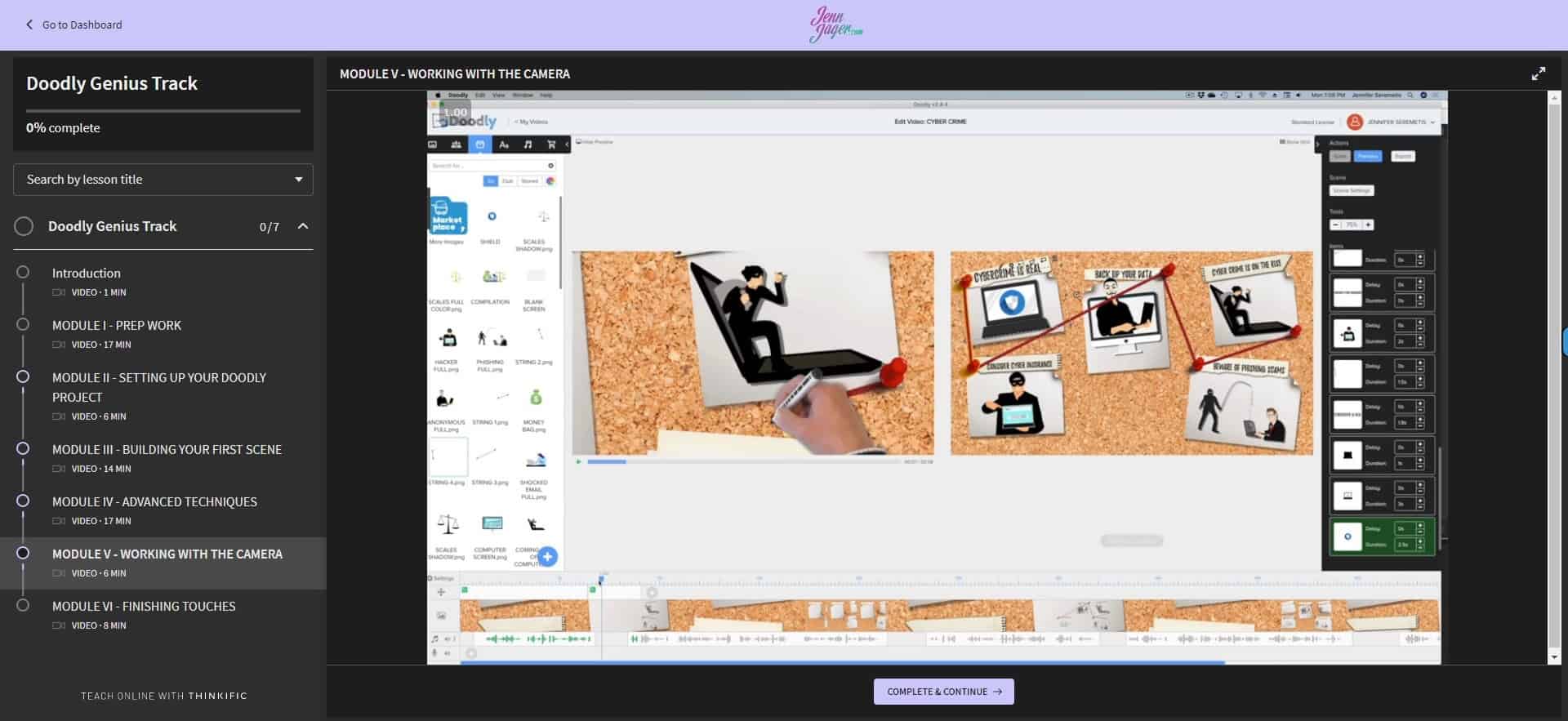 Here's what they're saying on my YouTube Channel where I've reviewed Doodly
Nice work, Jenn. This is one of the best reviews/demos I've ever seen. Your explanations are clear and pick up on issues that add time and frustration to using the software. Love it!
- OBP Austrailia
Here's what they're saying on my YouTube Channel where I've reviewed Doodly
I just downloaded Doodly and your tips were very helpful.
- Eric WInston
Here's what they're saying on my YouTube Channel where I've reviewed Doodly
There aren't many doodly videos on yt that provide this kind of value. In fact most that exist are outdated. May I request that you fill this void with a dedicated series?
- Soul Vids
Don't have Doodly yet?
Click the link to the right to go directly to the Doodly website.