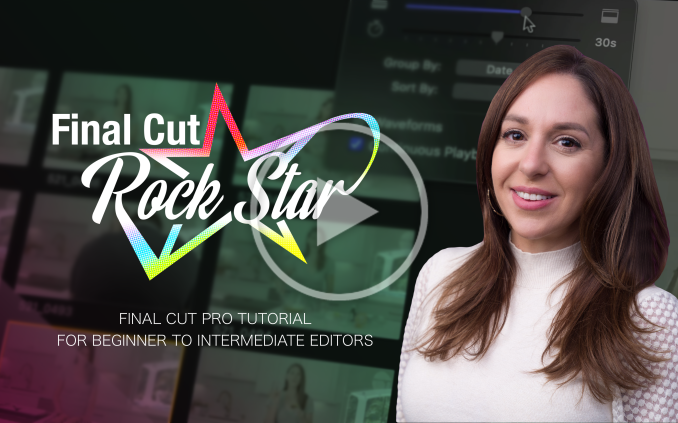 Final Cut Rock Star by Jenn Jager is a step-by-step tutorial for beginners through intermediate editors. In this course, Jenn supplies the raw video clips, music and graphics, and you'll build a video right along with her, gradually increasing in complexity as you go. Jenn doesn't just explain what she doing; she explains why, so you can apply those concepts to your own projects in the future. You'll be amazed at by your finished video project, and by the end of the course you'll definitely be a Final Cut Rock Star!
Buy Now
Tutorial Main Features
What You'll Learn With Final Cut Rock Star

Final Cut Interface
An in-depth understanding of FCP's tools and windows.

FCP Shortcuts
Hotkeys that enable you to edit faster than ever.

Editing Soundbites
How to take long, rambling soundbites and tighten them up like a pro.

A Professional Workflow
So your end result is exactly what you envisioned.

Exploring Color Correction
Techniques that will make your videos really pop!

Chroma Keying
How to use green screen videos for special effects.

Masking Techniques
How to cut elements out of your video without using masks.

Editing Music
Timing music cuts perfectly with the length of your video so it doesn't sound clipped.

Adding Text & Graphics
How to make text and graphics animate in.
Success Stories
What Our Client Say About Final Cut Rock Star