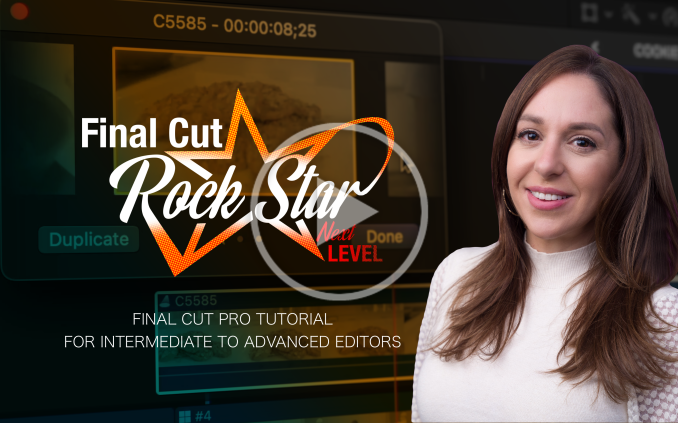 Final Cut Rock Star Next Level
$87
Take your Final Cut skills to the Next Level! Created for Intermediate editors, Final Cut Rock Star Next Level is a deeper look into Final Cut Pro's more complex features.  In this course, you received the raw media clips, music and graphics needed to build a multi camera, motion tracked project side by side with Jenn.  You'll learn dozens of tricks and discover things you never knew you could do in FCP!
Buy Now!
Tutorial Main Features
What You'll Learn in Next Level

Customizing Your Workspace
Get the most of our FCP experience

Advanced Media Management
Diving deep into FCP's powerful organization tools

Multicam Editing
Sync and switch angles in a snap

Advanced Audio Editing
Using roles and lanes

Advanced Coloring
Understanding color curves

Advanced Text Formatting
Creating multifaceted 3D text

Motion Tracking
Overlay animations and match moves

Advanced Exportation Settings
Export stems, captions, and more!

Archiving
Reduced library sizes